U.S. Rep. Cori Bush Making Herself Known In Washington | Webster Kirkwood Times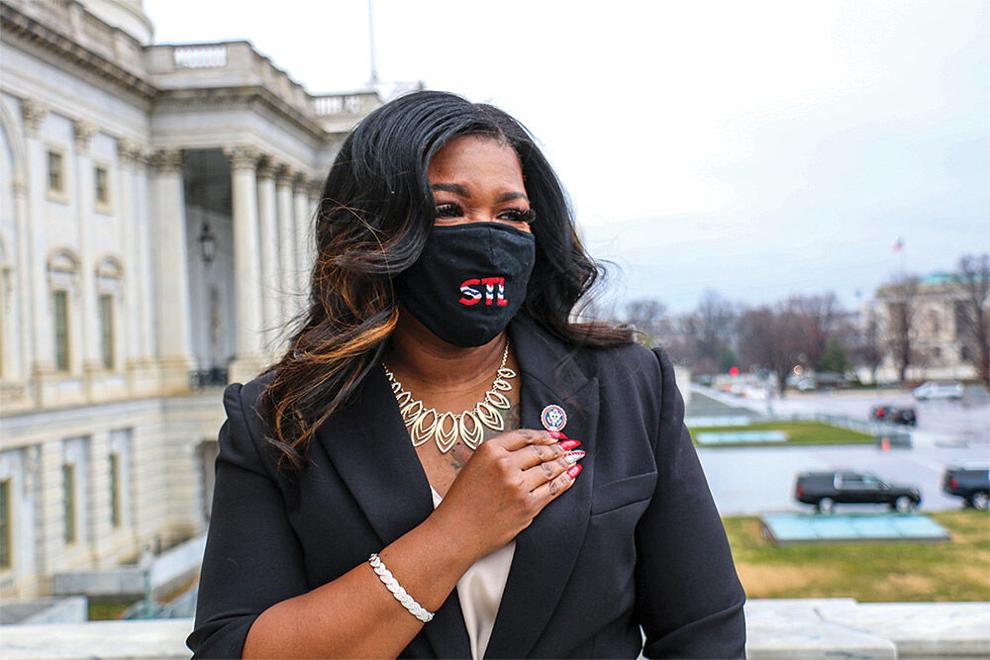 In just a few short weeks in Congress, newly-elected U.S. Rep. Cori Bush, D-St. Louis, has given her city visibility on issues ranging from education equity, racial discrimination, environmental racism and the impeachment of a president. 
Like it or not, the new freshman in Congress has a voice and it's getting heard. After defeating longtime incumbent Lacy Clay in the 2020 Democratic primary and scoring an easy win in the general election, Bush is now the first Black woman to represent Missouri in the U.S. House.
Bush's first congressional district takes in parts of Webster Groves and Rock Hill. It includes all of St. Louis City and much of northern St. Louis County. Ken Warren, a noted pollster and political science professor at St. Louis University, is a Webster Groves constituent of Bush and admits he's underestimated her.
"I was wrong in my prediction for the Bush-Clay primary race in 2020," said Warren. "Incumbents in our political system have the huge advantage, and I did not really think she could bring about an upset of the seat held so long by Lacy Clay and his father, William Clay. 
"Once she won the primary, she was a sure bet in November, regardless of what happened with the Biden-Trump presidential election," added Warren. "And she has attracted a lot of attention and media notice right out of the gate as a vocal member of Congress in 2021."
Bush hasn't been shy about her feelings for Donald Trump. She voted for his impeachment along with her Democratic colleagues and a handful of Republicans in the House. She lamented his acquittal as a lost opportunity for justice in the wake of the Jan. 6 chaos at the Capitol, which Trump was accused of inciting.
The storming of the Capitol by Trump supporters has raised calls for a commission to investigate the violence by those who claimed the Nov. 3 election of President Joe Biden was a fraud. Bush had her own confrontation with Georgia Republican Congresswoman Marjorie Greene, who also insists the Biden election was fraudulent.
Bush subsequently asked that her Congressional office be moved from its close proximity to Greene's office. Bush also has taken to the House Floor to denounce Greene's promotion of conspiracy theories associated with the extremist group QAnon.
The Gateway City House member voted with the majority to remove Greene from the U.S. House Education and Labor Committee and the House Budget Committee.
"St. Louis and I rise in defense of our nation's school children," Bush said in her House speech. "I cannot sit idly by and allow white supremacy and hatred to have decision-making power over our students' futures.
"To my Republican colleagues — let history remember what you did in this moment. A prerequisite for appointment to these committees — and for all that we do — must be that you love and represent all people," she continued. "We cannot build an equitable and anti-racist education system if a seated House Education and Labor Committee member incites violence through the perpetuation of racist lies in an attempt…


Read More: U.S. Rep. Cori Bush Making Herself Known In Washington | Webster Kirkwood Times