The guitar industry's hidden environmental problem, and the people trying to fix
Musicians are often concerned about environmental problems, but entangled in them through the materials used in their instruments. The guitar industry, which uses rare woods from old-growth trees, has been a canary in the coal mine –
struggling with scandals over illegal logging, resource scarcity and new environmental regulations related to trade in endangered species of trees.

We spent six years on the road tracing guitar-making across five continents, looking at the timber used –
known in the industry as tonewoods for their acoustic qualities –
and the industry's environmental dilemmas. Our goal was to start with the finished guitar and trace it to its origin places, people and plants.
We first visited guitar factories in Australia, the United States, Japan and China. There we observed materials and manufacturing techniques. From factories, we visited the sawmills that supply them. And then we journeyed further, to forests, witnessing the trees from which guitars are made.
Our task proved more complicated than imagined. At Martin Guitars alone, based in the US, wood comes from countries on six continents and 30 different vendors.
And the timber supply chains on which the guitar industry relies have been secretive. Many sources of wood are from places with historical legacies of environmental conflict, colonial violence and dispossession: spruces from the Pacific Northwest; rosewoods from Brazil, Madagascar and India; mahogany from Fiji and Central America.
Read: Artists, Activism and the Anthropocene: What does it really mean for change?
We learnt about the guitar's environmental footprint, while appreciating the skills and experiences of behind-the-scenes people, and the capacities of the forests and trees to adapt. And we saw how Australian guitar-makers, such as Maton and Cole Clark, are leading the way in embracing sustainable options, salvaging recycled wood, and sourcing native species from timber suppliers in Victoria, Tasmania and Queensland.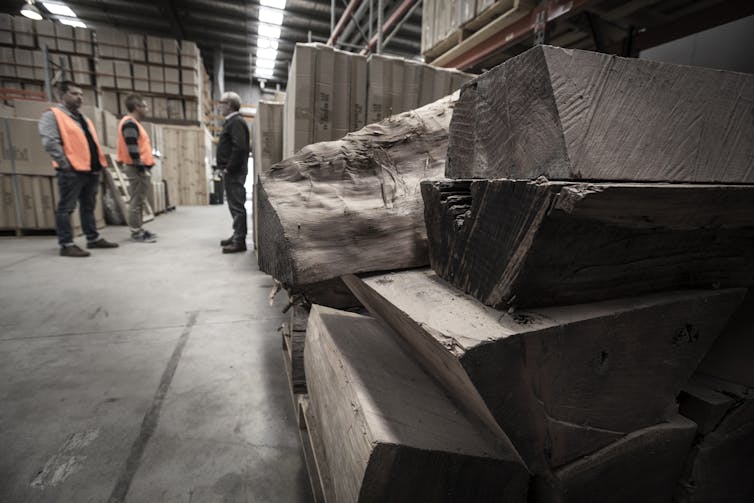 At Cole Clark's Melbourne factory, CEO Miles Jackson explains the unlikely story behind salvaging California Redwood from Victoria for use in guitar-making.
Paul Jones / UOW Media
How are guitars made?
Around 2.6 million guitars are produced annually, constituting a US$1 billion industry.
Unlike the timber used in construction or mass produced furniture –
plantation species selected for fast growth and quick returns on investment –
guitars use rare woods from old-growth trees. This is because the slices of wood used on guitars are quartersawn: cut perpendicular to the tree's growth rings to ensure stability and sound wave projection. The slices have to be wide enough to become the front face, backs or sides of the instrument, hence large diameter logs are needed.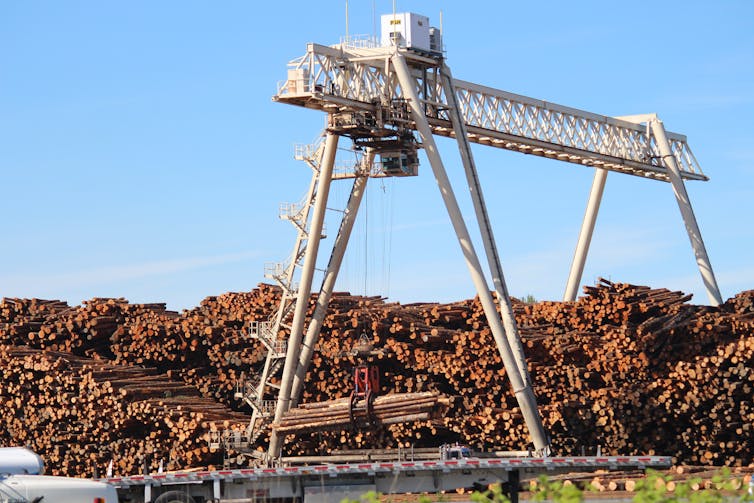 Industrial sawmilling in Washington state, USA. Guitar timbers do not come from such sawmills.
Authors
From carefully cut timber, guitar parts are then carved (whether by hand or machine), sanded and assembled. The soundboard (the top) is most critical. The guitar is musical because the strings are pulled extremely tight.
With their solid bodies, electric guitars can withstand tension better than acoustics. On acoustic guitars, the soundboard must be strong, but also light, and reverberate responsively, its stiffness harnessed for tonal qualities.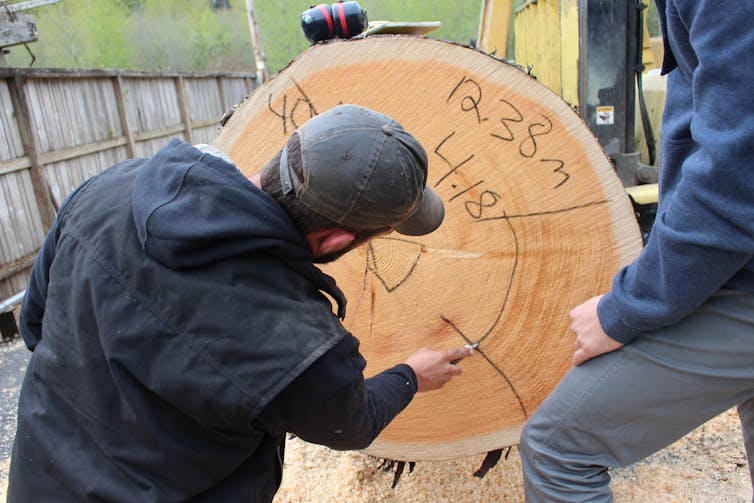 At Pacific Rim Tonewoods north of Seattle, a Sitka spruce log is prepared for splitting and quartersawing (cut radially) into thin, soundboard pieces.
Authors
Until recently, a narrow range of timber species were considered suitable for guitars. Through centuries of European craft tradition, luthiers established spruces (Picea) worked best as acoustic and classical guitar…


Read More: The guitar industry's hidden environmental problem, and the people trying to fix