Shake Shack Has Teamed with a Tiny, Fascinating Sea Creature to Fight Plastic
Shake Shack keeps finding new and interesting ways to live up to its "Stand for Something Good" motto. In the latest development, the popular chain of retro-modern restaurants is taking a stand on plastic pollution. The company has introduced biodegradable straws and cutlery at selected sites. In keeping with the company's quirky image, this is no ordinary bio-material. It is not made from plants. Instead, it is a plastic-like substance naturally produced by an ocean-dwelling microbe.
Shake Shack stands against plastic pollution
The latest Shake Shack venture is significant because it provides a high-profile platform for innovative new products that can help reduce plastic pollution. Shake Shack's new straws and cutlery are coming from the Restore Foodware branch of the biotechnology firm Newlight Technologies.
Newlight's new bio-material is called AirCarbon. According to Shake Shack, the new straws and cutlery have the look and feel of plastic, but they can be composted at home.
Shake Shack also notes that the material is made without synthetic glues or other synthetic additives.
To start, Shake Shack plans to roll the new items out at restaurants in West Hollywood, Santa Monica and Long Beach in California this spring, along with Madison Square Park and West Village in New York City, and Miami Beach in Florida.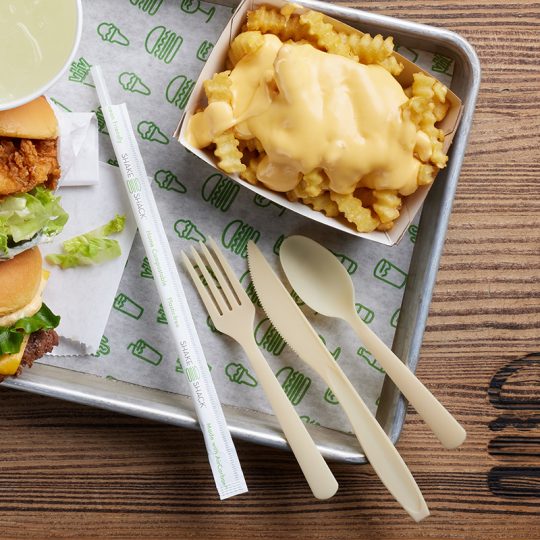 A plastic pollution warrior like none other
The plastic pollution fight is becoming crowded with bio-based alternatives, but Newlight has carved out an unusual niche for itself.
Conventional single-use plastics are made from fossil energy sources, including natural gas as well as petroleum and coal. When discarded improperly on land, fossil-sourced plastic items can easily travel down rivers and streams to the ocean, where plastic pollution has already reached crisis proportions.
In contrast, AirCarbon is produced by the natural metabolism that occurs when certain ocean-dwelling organisms digest air and carbon-containing greenhouse gases dissolved in saltwater. As they feast, the microorganisms create and store a plastic-like material called polyhydroxybutyrate (PHB).
Like conventional plastic, PHB can be melted and molded into a variety of forms that hold their shape when cooled. Unlike conventional plastic, PHB enables sequesters greenhouse gases that are already airborne, instead of extracting new fossil gasses from underground.
That makes PHB a form of carbon recycling, with the additional benefit of sequestering more carbon than its production requires.
The curious history of PHB
Plant-based bioplastics are fairly common. PHB and other bioplastics made by microorganisms represent another step on the sustainability ladder.
Compared to conventional crops used in bioplastic production, microorganisms can reduce or practically eliminate land use issues. They can also grow and reproduce much faster than plants. In addition, the conditions for their growth and reproduction can involve greater efficiency and less expense than conventional agriculture.
Despite the advantages, PHB has taken more than a century's worth of research to achieve its commercial potential.
Newlight's AirCarbon has its roots in 1888, when the first observation of granular specks in the bodies of certain bacteria took place.
Forty years later, in 1927, a researcher succeeded in isolating and identifying the specks.
Newlight Technologies was founded in 2003, almost 100 years later. The company plowed ten years of research into AirCarbon, in order to engineer a microorganism that could create and store far more bioplastic than it normally needs.
AirCarbon was ready for the market by 2013, attracting the attention of early adopters including Dell, IKEA and Sprint.
All hands on deck to end the ocean plastic crisis
All that hard work paid off for Newlight. The company cites a long list of awards for AirCarbon, including…


Read More: Shake Shack Has Teamed with a Tiny, Fascinating Sea Creature to Fight Plastic