Residents in South Shore call in environmental health over rat concerns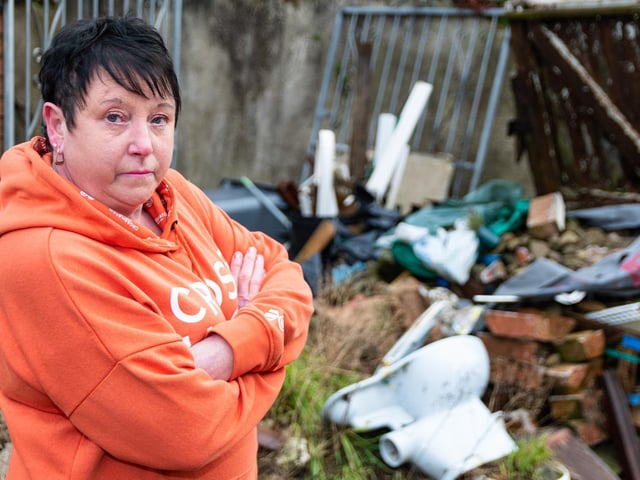 Jeanette Hyde outside the rear of 95 Saville Road in Blackpool, which the rubbish that has been dumped in the back yard. Photo: Kelvin Stuttard
Residents on either side of the terraced house contacted Blackpool Council after evidence of rats in their own loft spaces – and they believe the empty and run-down house in the middle of them could be where they are coming from.
They are hoping the council can fully investigate or put pressure on the landlord to check out the issue, as they are worried the rats will take hold in their homes.
The property at 95 Saville Road has previously been rented out by the Midlands-based landlord but has been empty for a number of years and has fallen into a state of severe disrepair.
Jeanette Hylde has called in Blackpool;'s environmental health because of fears over nesting rats in an empty property.
There have been problems with a leaking roof causing serious damp issues and there is ongoing fly-tipping in the back garden, but the neighbours' biggest fear is the rats.
Sharon Knight, 61, who lives next door, said: "This house is in a terrible condition and I have been worried about structural damage and damp, but I am most bothered about rats.
"My health is not great and the last thing I need is to get ill from them.
"I have put three different kinds of rat poison down in my loft and it has been eaten. I have found rat droppings and there has been a horrendous problem recently with huge numbers of blue bottles, along with marks on the wall.
"My neighbour on the other side of the house has had similar problems.
"There is an empty house in between, in a terrible state and with old food in the cupboards. I would just like it to be fully investigated – i am doing everything I can to deal with the rats but if they are nextdoor, what can I do? I'm getting desperate."
She said she the landlord had made some attempts to deal with structural problems and had been made aware of vermin concerns, but nothing had yet been done after several months.
Another neighbour, Jeanette Hyde, 60, who lives on the other side of the house, said: "We have put fresh poison in our loft now because we have found droppings there.
"The environmental health lady came round and they went in the house but I'm not sure what is going to be done..
"It cannot just be left, I know what rats can do and it is a real problem.
"The house nextdoor is a terrible mess, with fly tipping in the back and structural damage, but the thing that worries most is rats."
Attempts were made to contact the landlord via a third party but he was not available for comment.
John Blackledge, Blackpool Council's director of community and environmental services, said: "Following contact from residents, our Environmental Protection team carried out routine inspections of the property in question.
"The investigation is ongoing and we are continuing to support by offering guidance and advice to both the building's owner and residents of surrounding properties.
"We would always encourage residents to get in touch if they are concerned that there may be a pest issue. Pest problems can be caused by a number of factors, such as issues with drains or pipes, as well as increased access to food and water sources.
"Given that vacant properties can also attract fly-tipping, which in turn can contribute to pest problems, we would remind everyone to dispose of waste in the correct manner and encourage people to report incidents of fly-tipping to the council by visiting www.blackpool.gov.uk/flytipping."


Read More: Residents in South Shore call in environmental health over rat concerns