Poor air quality outside can produce higher levels pollution indoors, Utah study
SALT LAKE CITY — Air quality dangers outdoors can still present raised levels of poor air quality indoors, according to a recent study led by researchers at the University of Utah.
The report, published in Science of the Total Environment on Feb. 12, found that air pollution, especially smoke from wildfires or fireworks, has the ability to creep into indoor spaces and produce poor air quality inside buildings. It even has the ability to produce air quality levels that are unhealthy for sensitive groups during the worst inversion days.
The study began when a team of researchers set up air quality monitors at the Unified State Laboratories in Taylorsville in 2018. The monitors were placed on the building's rooftop, inside an office, and inside an air handling room. The year produced all sorts of poor air quality days that allowed the team to review the effects of particulate matter that accumulates during inversions, as well as smoke from fireworks and from wildfires, both inside and outside of the building.
After calculating the data, they found wildfire smoke posed the biggest threat to indoor air quality. Researchers found that indoor air pollution rose to about 78% of the outside pollution.
Poor air quality from inversion wasn't nearly as bad but still posed risks that were about 30% of the levels registered outside of the building at the time. Fireworks smoke levels, while only temporary, registered levels that ranged between inversion and wildlife smoke levels.
Daniel Mendoza, a research assistant professor in the U.'s Department of Atmospheric Sciences and one of the study's co-authors, said wildfire smoke likely posed the largest threats to indoor air quality because it has a different particle structure than particulate matter that lingers in the air during inversions.
"We see those particles travel straight through the system because there's no specific filtration that blocks out these particles," he said in a news release Monday. "Smoke particles can also be smaller in size; that's why they're so dangerous for us."
The smoke from fireworks also alarmed researchers because of how quickly the poor air quality seeped indoors. For instance, the indoor monitors picked up smoke from a small, private fireworks display in August 2018 that raised indoor air quality levels to "orange" for a few minutes.
"The pattern was consistent with the other firework example but reflected the smaller scale of this firework event," researchers stated in the paper.
The Fourth of July holiday that year raised levels to 29% of the air quality outdoors that evening. Most notably, levels reached "purple," or "very unhealthy levels," outdoors that evening. It took until 8 a.m. on July 5 for air quality levels to return to normal.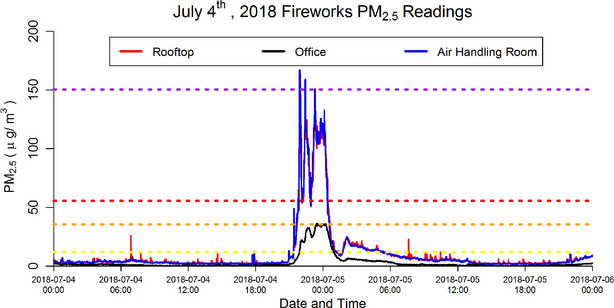 Inversion was the other major air quality question. On Dec. 8, 2018, researchers got their first "red," or "unhealthy," inversion day. They registered that air quality raised to levels that would be considered "yellow," or "unhealthy for sensitive groups," indoors.
Over a three-day span beginning that day, researchers found that indoor levels remained in the yellow range even when air quality levels outside had fallen back down to orange.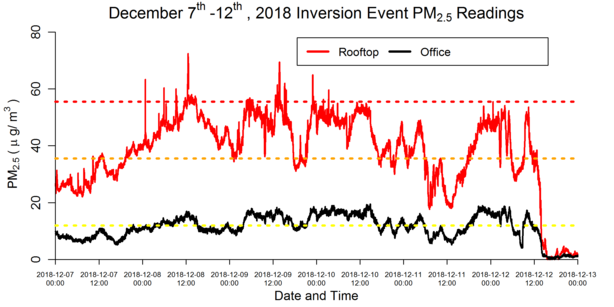 "Although the indoor pollutant concentration is generally about one-third as high as the outdoor pollutant concentration, there is a possibility that longer events could generate larger indoor pollutant buildups," the researchers wrote.
Air…


Read More: Poor air quality outside can produce higher levels pollution indoors, Utah study