I love my neighborhood. It might also be killing me.
I always thought it was a little cruel to call New Jersey the Garden State. We're famous for our pollution. The state has more Superfund sites than another other, 114, and I grew up near four of them in Newark, a particular nexus for toxic filth. The tap water is often poisonous. Our industrial zone has several waste management and processing plants. Soon, just under 2 miles from my front door here, another plant may rise, where "biosolids"—or treated waste, aka poop—would be funneled in, heated to 1,500 degrees, and sold as concrete thickener. What the plant, from Aries Clean Technologies, will leave behind in our neighborhood is now the subject of fierce debate.
I live in the Ironbound, the neighborhood where the plant is expected to be built. We are already sandwiched between a handful of different polluters. Covanta Essex, a trash-to-energy incinerator, sits on the north side. We've got Newark Liberty International Airport to the south. We've got the Port Newark–Elizabeth Marine Terminal to the east, which is serviced by dozens of diesel trucks a day, and then we have the cars spewing fumes as they sit in traffic on U.S. Route 1-9, Interstate 78, and the New Jersey Turnpike, which converge in our area. Exposure to the pollution here, according to the Natural Resources Defense Council, has been "linked to increased rates of asthma, cancers, cardiovascular diseases, and neurological problems in children."
Cynthia Mellon, chair of Newark's Environmental Commission, told me environmental justice advocates have been calling to recognize that communities of color here have been heavily overburdened by pollution in the city since the '80s: "For us, the key word is cumulative impact. Because when you have so many kinds of pollution gathered together in one place, it creates a very overburdened, toxic, and dangerous situation."
I loved growing up in Newark. As a young Muslim after 9/11, I had constant problems when I ventured out, especially to New York. In Newark, my neighborhood was mostly working-class immigrants, and here I was only bullied for being bad at soccer. But our outsider community is also home to things more affluent areas don't want and wouldn't tolerate. Even my fondest memories include this: My older brothers both held summer jobs as lifeguards at the only outdoor pool in Hayes Park. I was there every weekend—until it was suddenly emptied and shut down. I had no idea why. Mellon told me it was because the Environmental Protection Agency found dangerous amounts of dioxin, a chemical carcinogen known to cause cancer, in the pool water and in the dirt.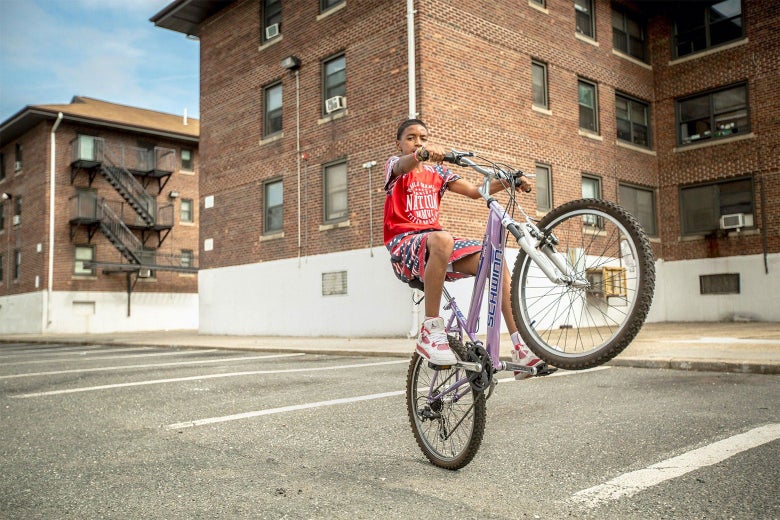 It's always been this way here, Mellon said. "Newark is like the cradle of industry. Alexander Hamilton identified Passaic Falls as having huge potential. The Passaic River in Newark has history that goes back to Colonial times," she told me. "In the old days, people thought they could just throw anything in the river and it would wash it clean. Some areas have been capped"—sealed to prevent further contamination—"in the south part of the Ironbound. People don't remember that Newark used to have a lot of smelters. There was also a battery factory right where Terrell Homes is that left behind huge deposits of lead."
Terrell Homes is near Riverbank Park. I live only a few doors down. Growing up, it's where my friends and I would spend hours every day of the week. That park too was shut down abruptly for a time.
Like many in Newark, I've dealt with some of the pollutants firsthand. I developed asthma, like 1 in 4 children in Newark do, or about three times the national rate. I breathe this air every day, and it's hard to say what kind of risks I'm taking. Now, my wife and I are expecting our first child this summer, a baby boy. We're beginning to have conversations…


Read More: I love my neighborhood. It might also be killing me.